Cover Girl made her first appearance in the comics way back in issue #16 along with some other 1983 Joes like Tripwire. However, her appearance was overshadowed by another event...Hawk being shot in the back. But she did take part in several missions afterward including the mission in the Swiss Alps that captured Cobra Commander.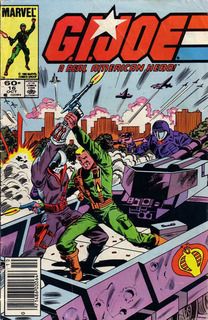 I've always felt that Cover Girl was an underused character on a team that (at the time) had only one other female member. I didn't even have her figure as a kid because she only came with the
Wolverine vehicle
and was never re-released. But I always liked her background which was Supermodel turned tank driver. There has to be a great story behind it. Did she get some minor scar that ruined her? Was she just fed up with the artifice? Or as fellow
Hisstanker
Badgumbo and I conceived while we were researching her arm patch; did her grandfather serve in the
104th Infantry Division
in World War II and she wanted to follow in his footsteps?

I finally bought her vintage figure a few years ago. Using it as reference, I combined the vintage figure look with her appearance on the package artwork to create the look of this 25th Anniversary style piece. I hope you dig her.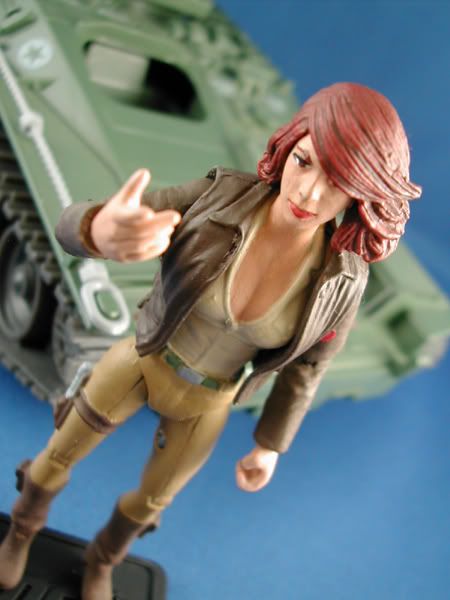 "Okay, Clutch, give me back the keys."
She's a combination of 6 different figures with all completely repainted parts. The jacket is a custom tailored Indiana Jones jacket. The patch is a waterslide decal created by me.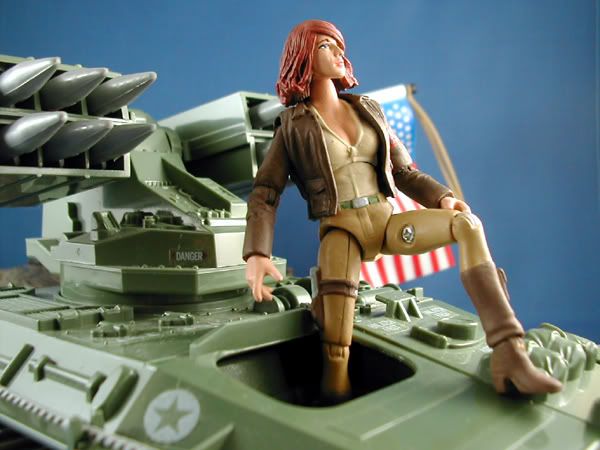 And, "yes," she does fit inside the vintage Wolverine!
Yo Joe!