I've done quite a few Cover Girls in my day (Did I just write that?) but as you know, I never do the exact same piece twice so in my efforts to keep her fresh, this time I've created the Agent Courney Krieger version as seen in the Devil's Due comic books.
She features modded/sculpted hair and sleeves. Her face was a real challenge as the one I selected did not have enough forehead for the hair style so I actually sculpted a forehead for her and sanded it down until the contours matched. The fur lined jacket is modified from a Star Wars figure. The rest of her is a conglomeration of parts from many other figures. She also features her trademark Wolverine patch although this time it is moved from her sleeve to her shoulder as is the Devil's Due look.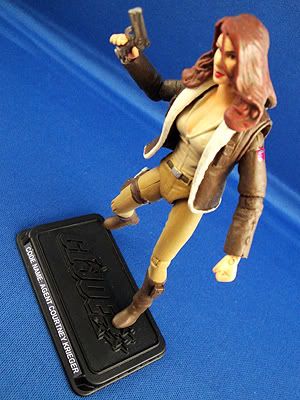 This is just one of the many Cover Girl's I've made over the years. Just type "Cover Girl" in the "SEARCH" box on the right side of the page to see more. Until next time, I remain
The Insidious One
.