J
ust about everyone who saw
Star Wars: A New Hope
as a young child has a memory of the charred skeletal remains of Uncle Own and Aunt Beru burned into their memory.
(Pun intended.)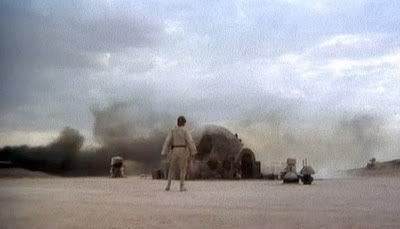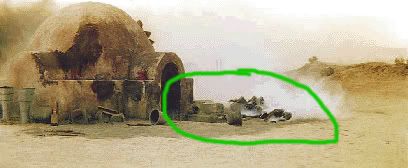 They appear on screen for only a few seconds but it's long enough to cause one to imagine what those stormtroopers may have done to make them that way. (More on that later.)
So when Hasbro released the Toys R Us exclusive
"Disturbance at the Lars Homestead"
playset, I thought we might finally get 3 3/4 scale figures or at least some kind of sculpted relief to represent the skeletons. "Outragous!" you say? Well it wouldn't be the first time as sometime back in the 1990s the Micro Machines
"Death Star Playset"
included a Lars Homestead area including a patch of sand that you could flip to reveal the skeletons. (Check out the video
here
if you don't believe me.)
Well, we didn't get the skeleton figures so I once again took matters into my own hands. Below is the result.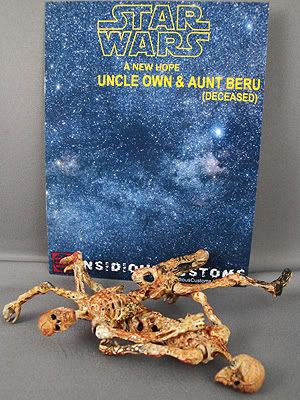 They really complete any Lars Homestead diorama and now I can't imagine not having them there.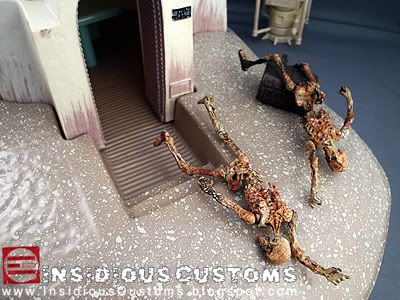 After I made them, I had a bit of fun imagining what those nasty Imperial Stormtroopers did to Luke's poor adopted parents so I created a little comic or "photonovel" as they say. It's called "What Really Happened on Tatooine? Click the graphic below to see it.
If you liked that one, check out the other banner links on the right side of the page. Also, I have some great Star Wars stuff coming up so subscribe to the blog or follow me on Twitter so you don't miss out. Until next time, I remain
"The Insidious One."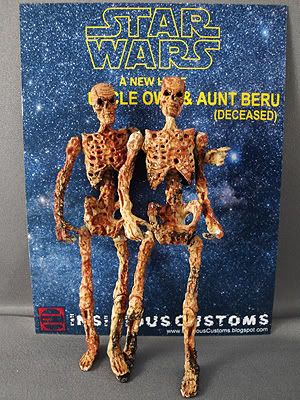 "Smile for the camera, you two crazy kids!"