I
didn't become this super talented writer, artist, and maker of all things cool over night. ;-) It took years of practice and the help of several very talented individuals who shepherded me in these areas. One such shepherd is
Eisner Award
nominated writer
Rafael Nieves
. Over the years, Raf has lent more than just an ear to hundreds of my cockamamie scripts and story ideas helping me make each one better. But even more than that, Raf is the wheel hub around which my creative pals spin. He keeps us together and he keeps us moving. So when his birthday came up this year, I wanted to do something special to say thanks for all that he's done for me. The finished piece ended up looking so much like
Tony Stark
I thought I'd share.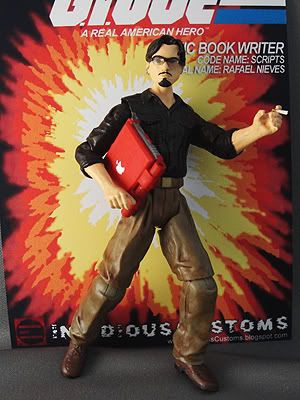 His accessories include his ever present Mac Laptop with red cover (for pounding out his latest masterpiece), glasses, and of course a cigarette.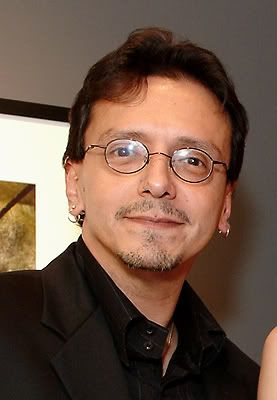 The head started as a G.I. JOE: Rise of Cobra "Breaker." I cut the hair off his forehead, sanded it smooth, sculpted his signature coif and sanded down the nose. Crafting the tiny hoop earrings was a challenge and I actually ended up sculpting them separately and then gluing them on afterward.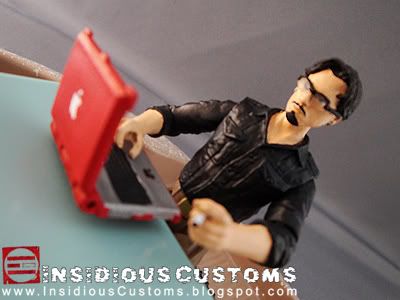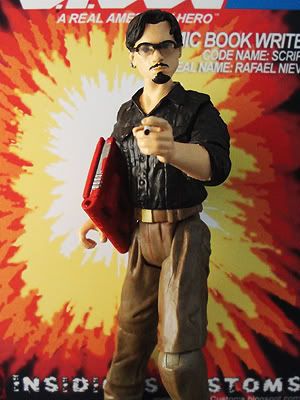 Here we are at
Dan Con 2011
where I presented him with the completed piece.