When Outback was released in 1987, I didn't think much of his bright orange "Grizzly Adams" beard and bright white "Survival" T-shirt. How could he be useful for anything except being a walking/talking signal for pick-up?

And what was with all the "trainers" on the Joe team all of a sudden? (Sgt. Slaughter anyone?) But when the Night Force version was released in 1988 in more subdued colors and with a new mission of night recon and infiltration, I found the character much more palatable.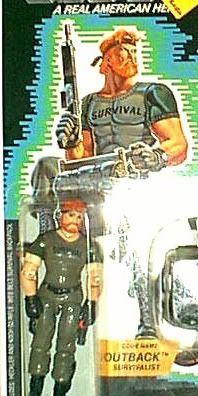 Flash forward to 2009: Hasbro gave us two updated 25th Anniversary versions of Outback but neither one was the original or even the Night Force version and the hair and beard were even more unnaturally bright orange. I've remedied the situation by repainting his face-fur in a more natural color, repainting his eyes, giving him some new gear, painting the gear black, and adding tons of painted details. Check the pics below. Hope you dig him.