Y
ou'll notice that I often refer to "commissions" in my posts. If you've wondered what I'm talking about, today's your lucky day because today's post is all about my commission process.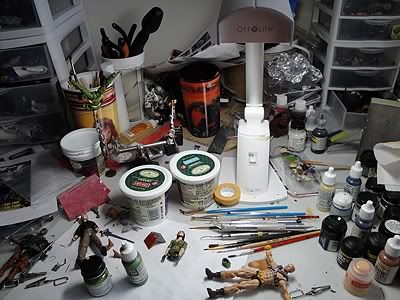 A commission is a figure that I make at the request of a client (this could be you). It may be a character I've made previously, a new concept, or even a little of both. Below is my step by step process. For this example YOU will be the client (or commissioner) and I will be...well, me.


You've always wanted a (insert the name of your favorite character) action figure. But Hasbro (Mattel, etc.) either hasn't made them or they haven't made them to your liking. So you decide that you want to get this figure made.

STEP 1: You contact me via email (Eric@Insidious1.com). In your email, you describe the type of figure you want including...
The scale and style. (ie: Modern Star Wars, Modern GI JOE, Marvel Universe, etc.)


The details of the character. ("I want him to have a brown trench coat and red Chuck Taylor sneakers.")



A few images or links to images for reference. (This is the most helpful thing you can do.)
STEP 2: I write back to you with any questions and/or a quote.
STEP 3: You write back to me accepting the quote. You also send half of the total quoted amount to me via PayPal.
STEP 4: I secure the parts and begin working on your figure.
STEP 5: When I have finished the figure, I email photos of the completed piece to you for approval.
STEP 6: You email your approval and send the second half of the payment via PayPal.
STEP 7: I mail your brand new ONE OF A KIND piece of action figure art to you.
It's that easy! Here are a few other general things you should know about commissions.
1) Commissions aren't cheap. They are hand sculpted and painted pieces of art so don't expect your quote to resemble anything near what you would pay for a figure at a mass market retailer. I am a professional toy designer with over ten years experience and I bring the same level of expertise to my custom figures that I bring to real toy prototypes.
2) I don't make the same figure twice. What this means is that while I will make the same character multiple times, every single piece will be a ONE OF A KIND. The differences between versions can be as sublte as color changes or small sculpted details. Other times the differences are as dramatic as using completely different base pieces to construct them. This also means the second time I do a character will often be an improvement over the first.
I hope this post has dispelled any mystery surrounding commissions. So if you have something in mind, drop me a line. There's a link to my email on my
Profile Page
or you can click the "The Insidious One" I put at the end of every blog post. I hope to hear from you soon. With that, I remain
The Insidious One.