I never owned the vintage Snowcat but the box art is memorable to me because Snake-Eyes is sitting next to Frostbite in the front seat. (I always felt Snake-Eyes was a poor choice for that mission with his skin-tight, all-black outfit, but maybe Frostbite was just driving him to the mission site.) The package is also memorable because the expression on Frostbite's face is so intense but the actual figure, which is a mere inch away from the painted faces features the biggest grin I've ever seen on a 3.75" figure.
So when the new Pursuit of Cobra Snow Cat...errr, I mean "Wolf Hound" was released, I just had to get one. Unfortunately the driver they included with the vehicle wasn't Frostbite. Instead they included some generic looking guy named "White Out" who must have gotten his code name because he used to work in the accounting department before they started using computers. (Get it? White out? *Sorry*) Further, the Frostbite that Hasbro did release in the Rise of Cobra line just didn't have the look or the "character" of the original figure. (He's wearing a ski-mask.) So I decided to make a 25th Anniversary style Frostbite more remenicent of the original, complete with the original figure's goofy grin.
After I started this piece, I saw some other great-looking Frostbite custom figures on HissTank.com. While the paint jobs looked fantastic, it's hard to get white paint to cover other base colors. And no matter how well you sand, prep, and seal, with use over time the paint on the joints will eventually wear away. So I was determined to; #1 not paint his joints and #2 make his uniform a bright white color to match his vintage uniform while at the same time making him look unique when standing next to 25th Anniversary Snow Job whose uniform is a very dull white.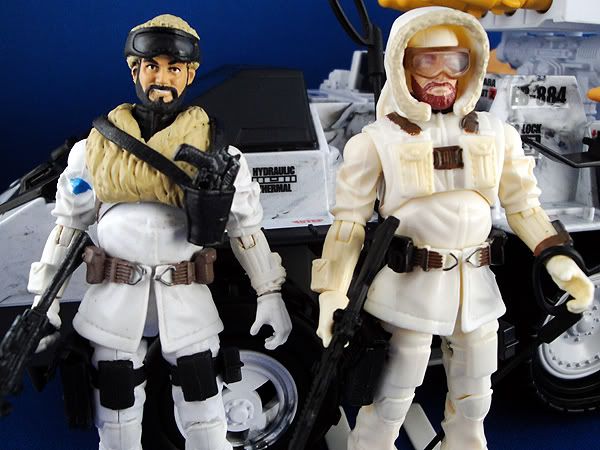 I achieved this by using a Snow Job from the Past and Present Target Exclusive box set as a base and carefully removing all of the paint and camo from his uniform. (On a side note, the file card art for the vintage "Rockslide" that came with this set features an image that looks like vintage Frostbite. Perhaps Hasbro had intended to create a 25th Anniversary Frostbite and scrapped the idea after the artwork was created?)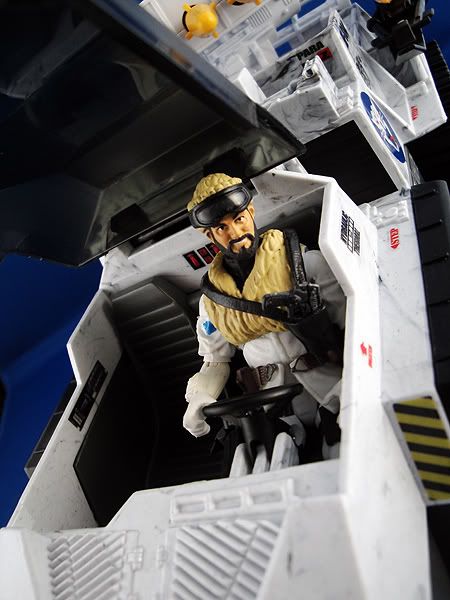 I used a ROC Shipwreck head and sculpted the furry hat around a pair of Snow Job Goggles. I cut the pockets off the chest of the figure and sculpted the jacket fur and collar. His head is also completely repainted to create a black bushy beard and his famous grin.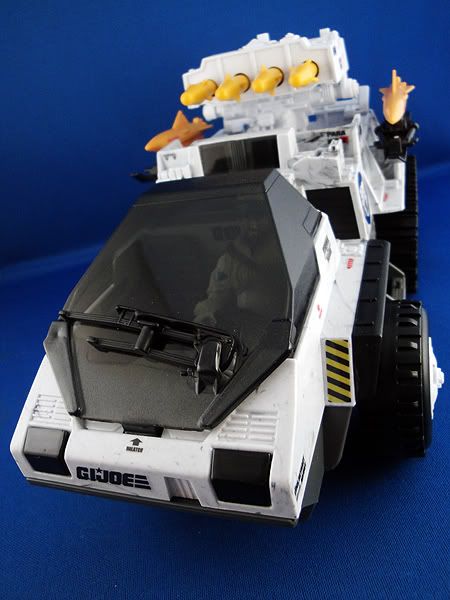 The final touch is a custom designed waterlside decal for his arm. After much research and debate, I call it a Polar Bear. (Perhaps he's a member of the "Polar Bear Club?")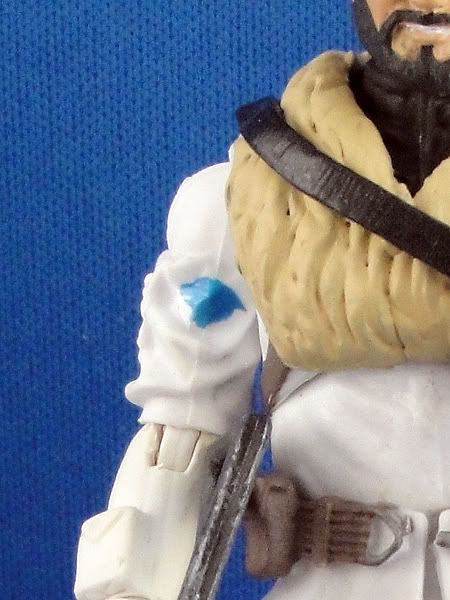 He includes two pistols and his sniper rifle.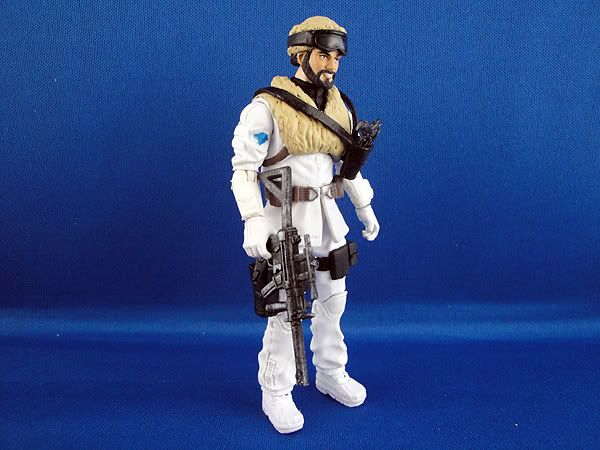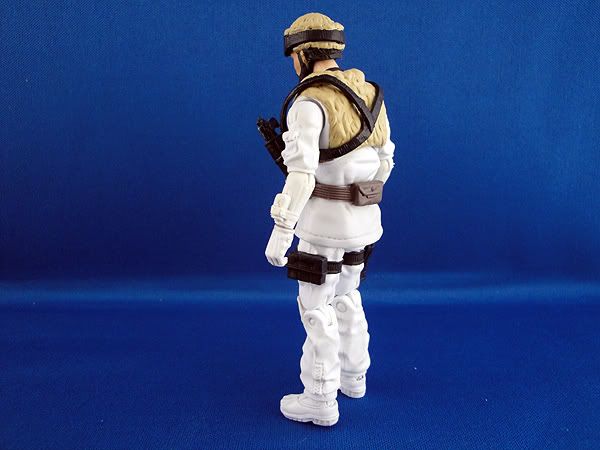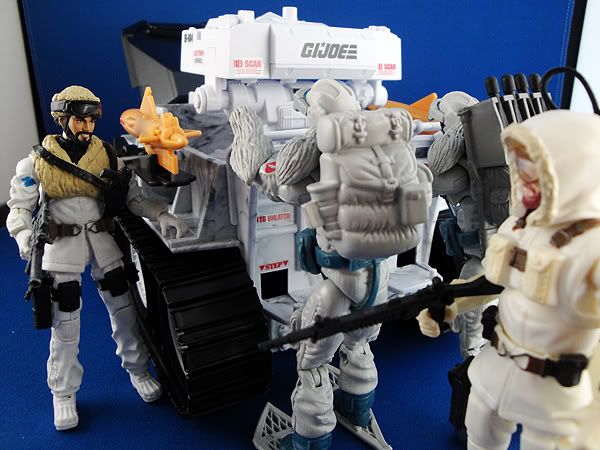 "C'mon Snow Job, let's march these snakes back to base."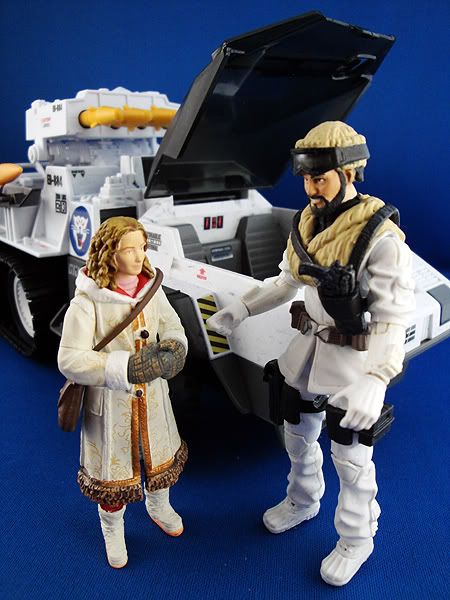 "Sir, I normally don't talk to strangers but I lost my compass and your big smile lets me know that you're a nice man."
"That's right little girl, bad people never smile."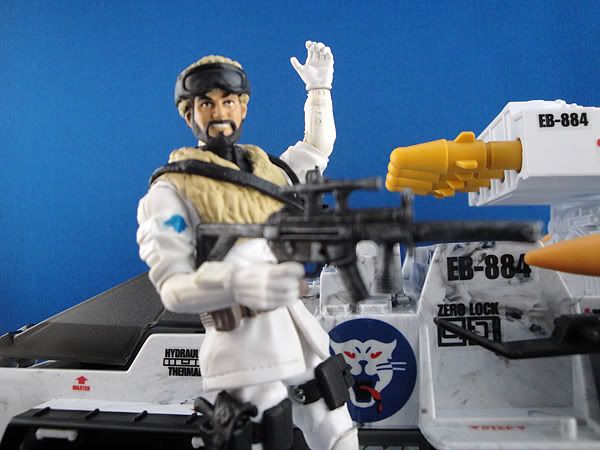 I had a lot of fun making him. If you dig him, leave a comment. Or if you need a suitable driver for your Snow Cat...errr, I mean Wolf Hound contact me regarding a commission. Until next time, I remain The Insidious One.