As we countdown to the MOTUC Castle Grayskull pre-order deadline of Saturday, November 12th, I am having Castle Grayskull Week here at Insidious Customs to build awareness as well as showcase my latest Masters of the Universe custom action figures. Our first installment is a bit unique as it's my first LEGO custom. I hope you enjoy.
It's hard to believe that less than 10 years ago, LEGO was getting their butt handed to them by Mega Bloks. The reason for that was twofold; LEGO's unwillingness to embrace licenses and their lack of focus on the miniature figures. In fact, even though they had the Star Wars license, the first year of Star Wars LEGO mini-figs featured yellow heads and very little deco. Their focus was still on building play. Whereas, Meg Bloks focused on creating highly detailed figures and telling a story with simply constructed but highly detailed environments and vehicles.
LEGO must have learned the error of their ways as today they embrace all the top licenses from Marvel and DC to Sponge Bob, Toy Story, Star Wars, and Lord of the Rings. They've also shifted their focus from including a few simple mini-figures to driving the purchase of LEGO sets by including many highly detailed exclusive mini-figures. The characters are still filtered through the LEGO lens, but the sculpts are more intricate and the deco is plentiful. Yes, it's fun to build the Mines of Moria but getting a uniquely sculpted Cave Troll mini-figure makes playing with it afterward even more fun. In addition, they've created their own story-driven properties such as the highly successful Ninjago and my personal favorite Monster Fighters.
One license that I imagine they will never get is Masters of the Universe; partly because it's owned by Mattel, one of the largest toy companies in the U.S., and partly because they have their own Sword and Sorcery properties in the form of Kingdoms and Heroica. But that doesn't stop me and and many other LEGO / Masters fans from dreaming.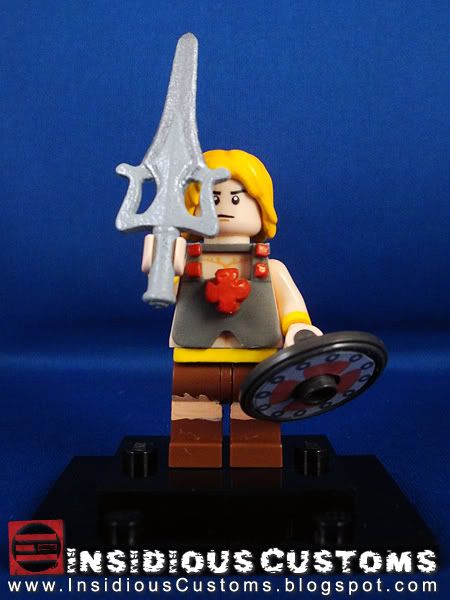 When my son asked for a Castle Grayskull cake for his birthday, we felt that we wanted some small characters in front of it. I made the He-Man mini-figure below from parts I was able to pick up at the Bridgeview Toy Con toy show. The hair and legs are painted and the red cross on his chest and other details are sculpted. The sword came from Shapeways. We painted half of the sword purple and half silver to resemble the combined vintage power sword. The shield features a design I created based on the vintage shield. I printed it on a piece of glossy paper, cut-out, and glued it onto the blank shield.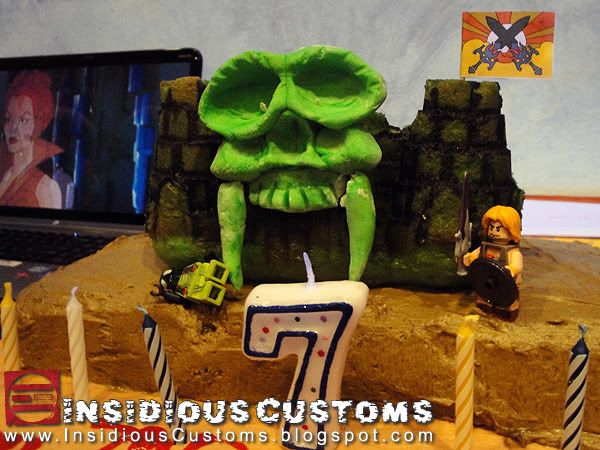 Here's Castle Grayskull cake #1 created by the super talented bakery artists at Tutu Cupcakes. My son gave He-Man a Ninjago villain to fight since he resembled a Snake Man. I printed the castle's flag and glued it to a toothpick.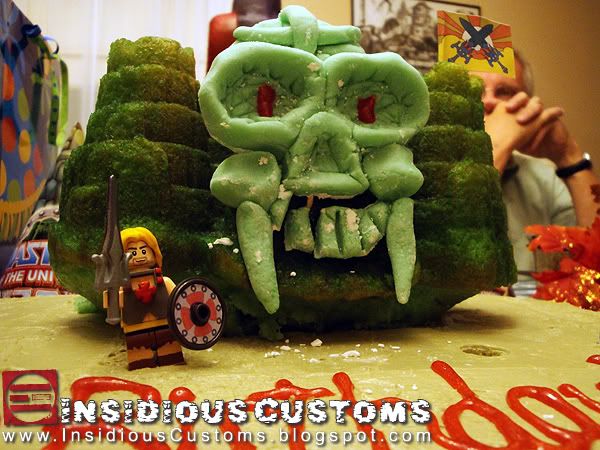 And here's Castle Grayskull cake #2. (Also created by Tutu Cupcakes.)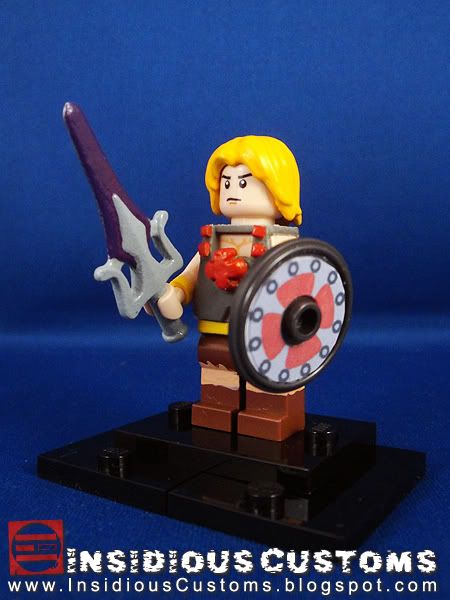 I hope you dig my LEGO He-Man. I wish someone would make a more accurate harness on Shapeways but until then, this one will do. Check back for more Castle Grayskull Week at Insidious Customs. Follow at the links above or on the right so you don't miss out. Until next time, I remain The Insidious One.
P.S. - Don't forget to pre-order your MOTUC Castle Grayskull by November 10th (This Monday)! We only have 7 days left and we still have about halfway to go to reach the minimum order quantity. If we don't reach the minimum by Saturday, they won't produce it!
Finally, here's a sneak peek of my next LEGO MOTU custom still in progress. You'll never guess who it is. ;-)