W
elcome to
Star Wars Week
at Insidious Customs! This week, I will post a new Star Wars piece every day. First up is a commission that I recently finished for a client; Bastila Shan from the Star Wars video game Knights of the Old Republic.
I had seen posters and pictures of her here and there and I always thought she was a cool looking character but not owning an X-Box myself, I never got to see her in action. So my first job was to find some good reference and luckily I found quite a bit using
Google Image Search
.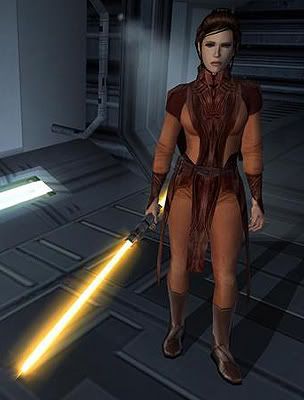 After seeing the details of her tunic, I knew this was going to be a massive sculptural undertaking but I looked forward to the challenge.
To get the worked leather look of the tunic I had to sculpt each layer separately, let it harden, sand it, and then add the next layer.
The hair was also particularly challenging with her two short ponytails in the back. I actually sculpted them in place and then removed them, reattaching them with glue to ensure they would stay attached to the rest of her hair.
I went back and forth on the bangs as on the package art (see below) her forehead is exposed but when I saw that she had the bangs throughout the game, I decided they were part of her iconic character and added them.
As for the yellow lightsaber, it's bashed from a Darth Maul handle and two early Luke Skywalker blades. For some reason, many of the early Luke blades were yellow instead of green. I sculpted the emitter shrouds.
I hope you dig her. She was so labor and time consuming I won't make her again. But I'm happy with how she turned out. Check back tomorrow for another edition of Star Wars week! Until then, I remain
"The Insidious One."