When G.I.JOE toys were sold internationally, often the characters were changed in name and appearance. Was it so they could tell whatever stories they wanted in comics and other media and not have to worry about kids confusing them with their American released versions? Was it the availability of the tooling molds? (I find that hard to believe because of the sheer creative use of parts on some of these international figures.) Or
was it simply to make the characters easier to identify with in that country?
I don't know the answer but I don't think it was the latter and Glenda is the case in point.

Glenda used the Scarlett figure body as a base with a chrome torso, a completely different deco, and different accessories including Breaker's headset and Flash's laser gun. You can check out the original figure here at YoJoe.com
.
Her file card explains that she's the Co-Pilot (which seems kind of sexist), test pilot, and intelligence officer named...Jane Mullighan. Jane Mulligan? I never would have expected that the test pilot for "Commandos Heroicos" to be of Irish decent. But if you look at the names and the background stories of the rest of the team, none of them appear to be native to South America.
So when I decided to make a new version of Glenda, I not only wanted to make her look like a badass pilot (not just a co-pilot) but also try to explain how someone named Jane Mullighan who wears a chrome leotard and light blue body suit fits into the Argentinean branch of G.I.JOE.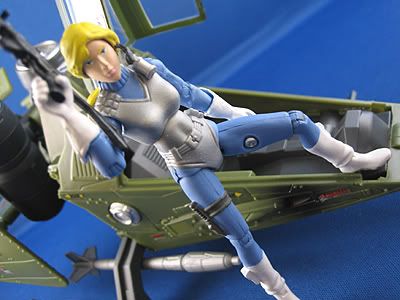 My initial thought was to make her chrome torso look more like body armor and give her a pilot's headset that she could actually wear unlike the original figure that had no means of keeping the headset on her head. To those ends, I painted her leotard a gun-metal finish and after much experimentation with different removable headsets, I drilled a hole in her hairdo and attached a microphone. (Sometimes simple is the best solution.)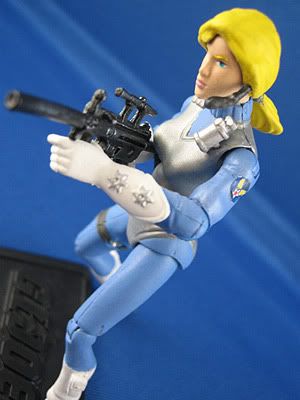 Along the way, I saw a cool fan made vintage-style pin-up of Glenda. In it, she was wearing an Air Force patch on her arm...and in that moment, her back story came to me and I added the patch to her left shoulder. The result is below...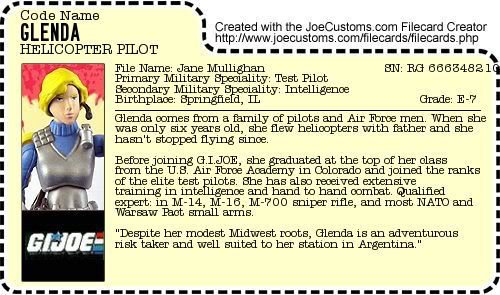 (Please pardon my typo in sentence #2. - Eric)
Despite using a "Pilot Scarlett" figure as the base, the entire figure is completely repainted including the blue bodysuit and face.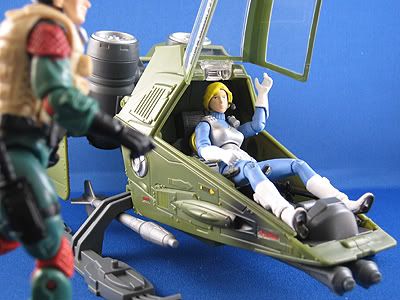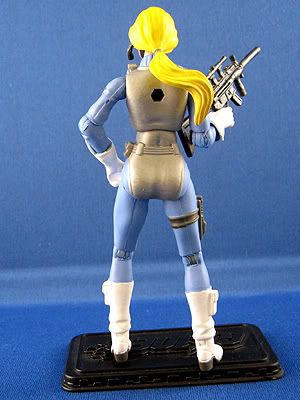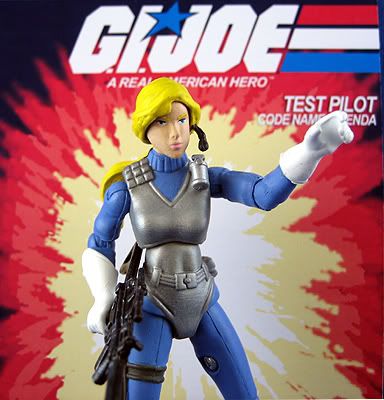 I hope you dig her. If you do (or you don't) let me know your thoughts. Until next time, I remain "The Insidious One."