This blog is my home for what most people are now calling "customs" but I call my "Ultimate Action Figure Art."

Why?


First, I put a lot of thought into each piece trying to hone the character down to the essential ingredients that make them unique and memorable. So if I make Snake-Eyes, he's going to be the "Ultimate Snake-Eyes" that is the culmination of everything I like about the character from various media whether it be comics, package art, the vintage figure, movies, or cartoons. In this case, it also means the piece includes a second "scarred face" head.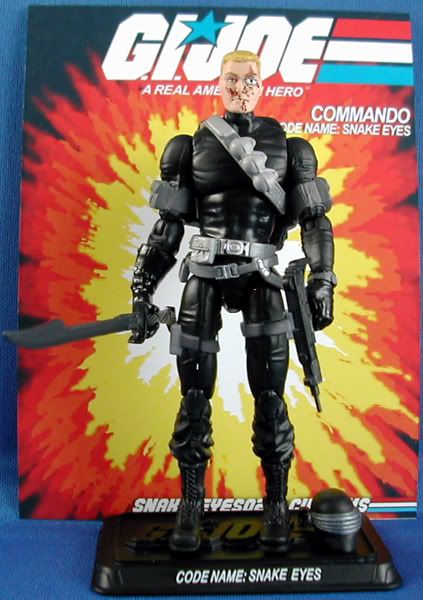 Second, while yes, these do start out as toys, I consider each piece to be a work of art. I sculpt, dremel, glue, paint, and deco each to a degree that you will never see anywhere else. And I never make the exact same figure more than once so each one is unique. Those that own one or more of my customs know that I also "sign" each piece so they know it's authentic.
So without further adieu, here are the goals for this blog....
1) Show off my work whether it be my latest custom figure piece or tease my latest top secret project.
2) Give you some insights into my thought process behind each of my custom pieces.
3) Give customizers new and old some insights into the techniques and tricks that I use to make my custom action figures. (My years making prototypes for the big guys have taught me many things that go a long way to making a piece look "real.")
If you haven't read my bio, my name is Eric LeFeber and I am a professional toy and game designer, product development guru, and marketer. I've worked for many of the biggest toy companies in the world and have personally created and led teams to create entire lines of products, presented them to retail, and even produced the commercials. I've worked on everything from die-cast cars to consumer electronics to girls toys with web components. (Check out
www.MySecretCircle.com
for one of my latest products.) I've also written and illustrated comic books and children's books.
I'm currently looking for new career opportunities, so if you like what you see here, this is just a taste of what I can do. Check out my professional profile at
LinkedIn
.
Finally, I do take commissions from time to time so if you see something you like or have something in mind, send me an
email
.
I hope you enjoy!
Eric LeFeber
"The Insidious One"