W
hile
I've mentioned before
how much I loved Masters of the Universe when it launched back in 1982, by 1987 my interest was waning. That year's wave of figures focused on characters that didn't fit the savage, "barbarians with technology" mythos that I preferred. There was a cowboy called
Rio Blast
, (Really? A cowboy?), a pearl white and gold colored robotic knight called
Extendar
, and
King Randor
and the
Sorceress
from the Filmation cartoons to name a few. But one figure in the wave did catch my attention;
Ninjor
. Yeah, a ninja is a bit of a stretch for the barbaric world, but with his sword, nun-chucks, bow, and reptilian feet, he seemed to fit-in better than any of the others.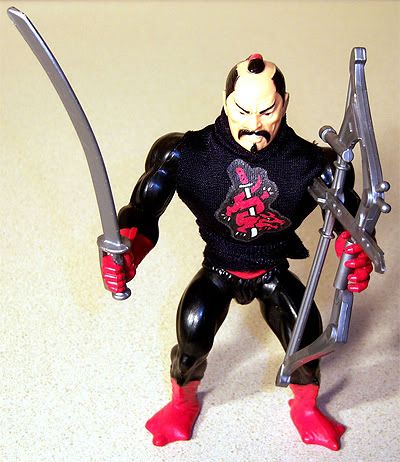 I never got him, but he stayed in my memory and I was hoping he would get the MOTUC treatment. So far, he has not and I imagine there's a bit of a discussion happening behind the scenes regarding his cloth shirt and mask. I know from my own toy manufacturing experience that some factories in China do not do fabric and bringing it in from another factory can be costly. And now that Mattel has the rights to Filmation characters, I imagine Ninjor has been bumped even further down the totem pole. Convinced we weren't going to get him any time soon, I once again took matters into my own hands.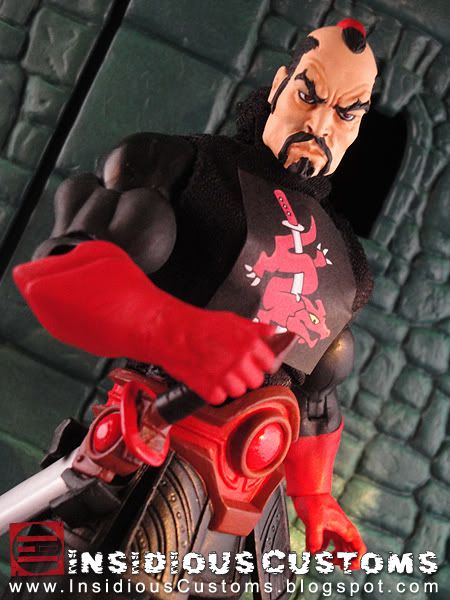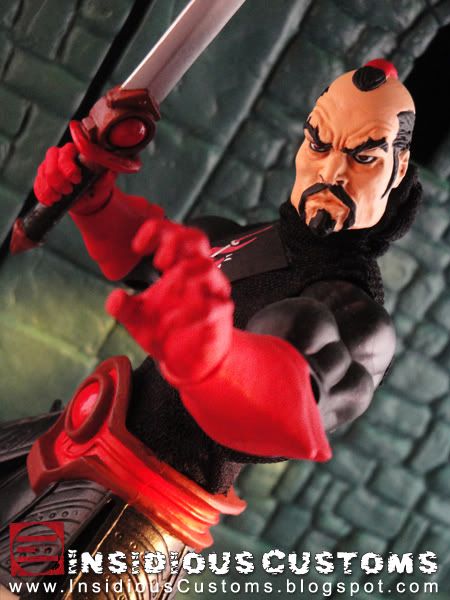 Ninjor is a combination of four Masters of the Universe Classics figures and features a highly modded Marzo face with a head and top-knot sculpted by me. The shirt/mask are sewn by hand as one piece so the mask stays put until you pull it over his head.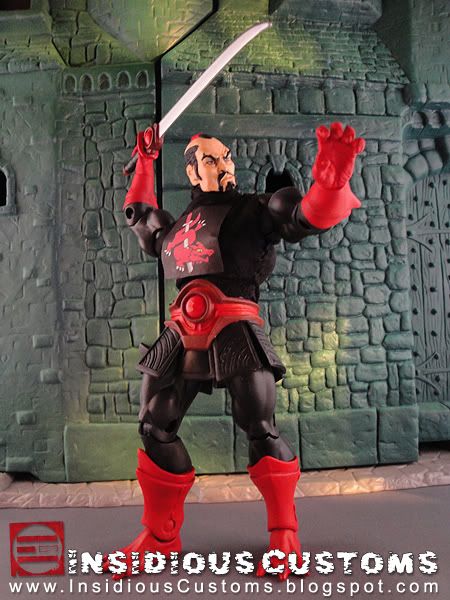 I re-created the dragon emblem on the shirt giving it more rendering and details while trying to stay true to the original design. I applied the emblem to the shirt as an iron-on but it turned out very dark so I added a sticker on top of it. (The iron-on is still underneath the sticker if you prefer a darker grittier look.)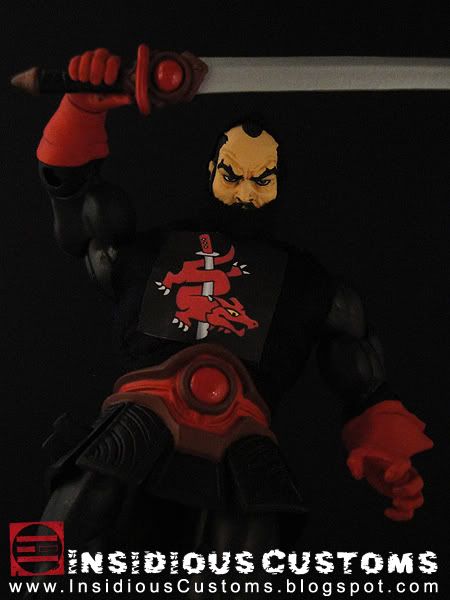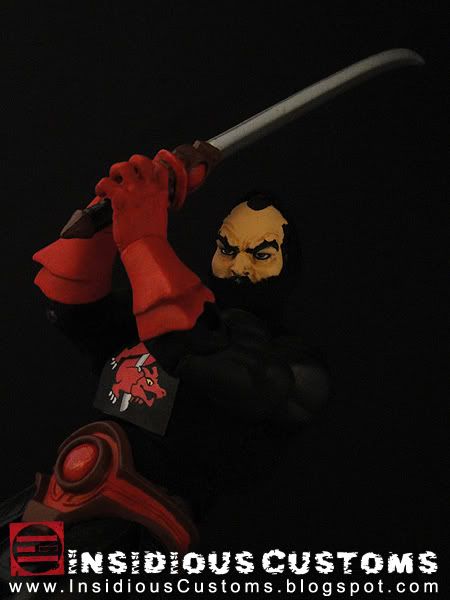 I now present a little "photo story" I call...
ENTER THE NINJOR!
GUARD 1: "Hey, you see that new Wind Raider? It's HUUUGE!"
LT. SPECTOR: "Keep quiet soldier, we have to remain vigilant while the Masters are having a feast to celebrate Sir Laser-Lot's arrival."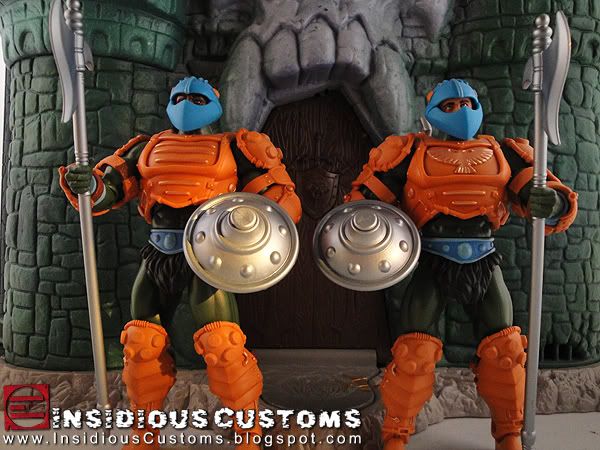 GUARD 1: "Sir Laser-Lot? Tell me that's not the dumbest name you've ever heard?"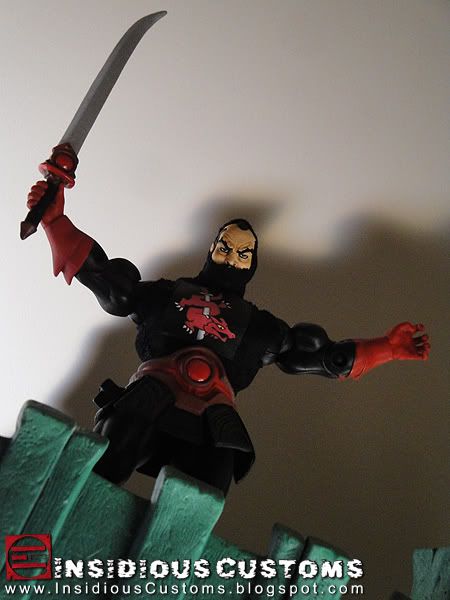 LT. SPECTOR:
"I said zip-it, soldier...hey did you just hear something?"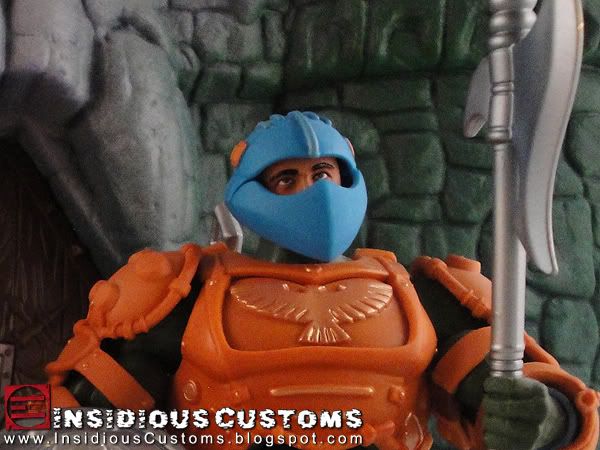 GUARD 1: "Here we go again. Next, you're gonna start telling stories about that crazy purple time traveler you keep seeing."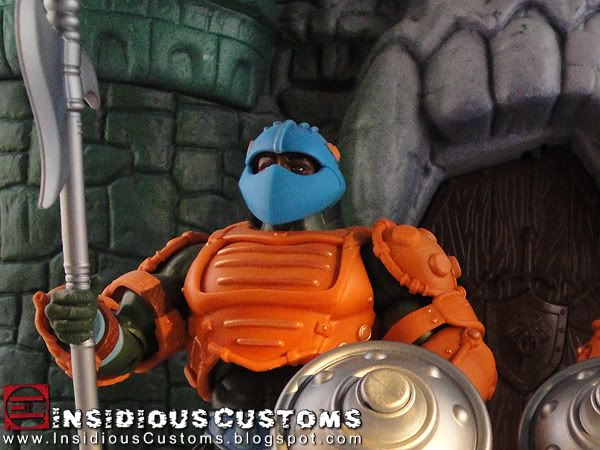 LT. SPECTOR: "NO! Really, I just heard something again!"
GUARD 1: "Listen man, I know you out rank me somehow but..."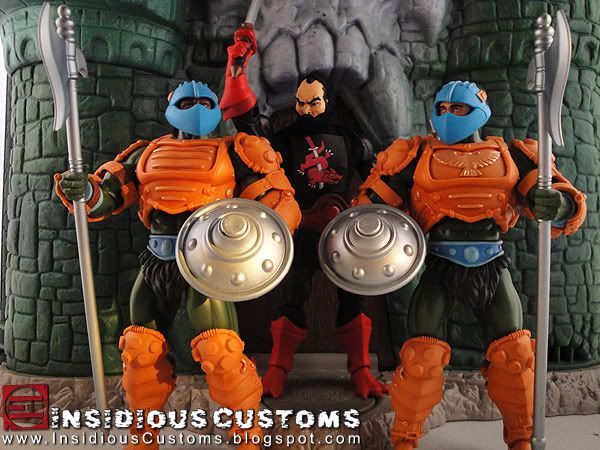 GUARD 1: "AAAAAGGGGHHHHH!"
LT. SPECTOR: "Oof!"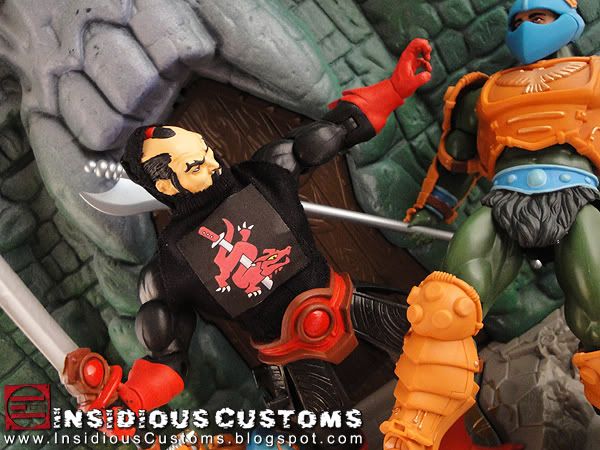 LT. SPECTOR: "I regret nothing! Well, maybe that weekend with the Star Sisters...or should I say brothers. AGK!"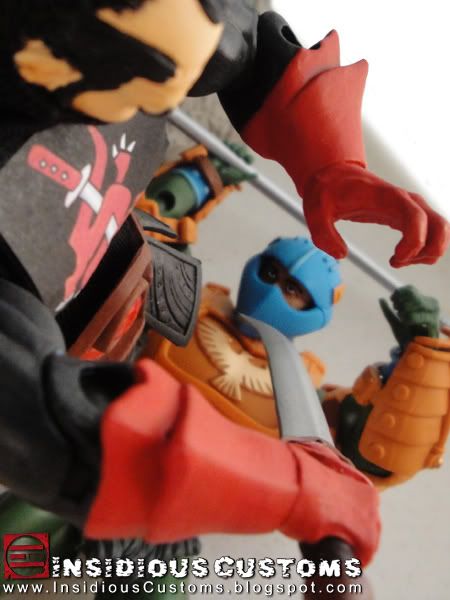 NINJOR: "Who is next?"
I hope you dig him as much as I do and I hope seeing how well he works in MOTUC will inspire Scott "Toy Guru"
Neitlich or The Four Horsemen to move him higher on the totem pole. If you want to add him to your team of Evil Warriors, he's available here in my Etsy Store. Or if you'd like to commission a figure of your own, drop me a line. As always, I remain The Insidious One.
P.S. - If you like my new Ninjor-style dragon emblem, you can buy your very own t-shirt featuring the design here.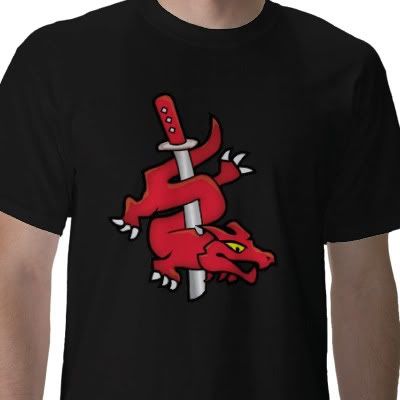 P.P.S.- I have a work table FULL of MOTUC customs that are almost finished. So if you like Ninjor, be sure to follow my blog or follow me on Twitter so you don't miss a thing!