Thanks to everyone who voted for "Top Shelf" in the
"New Recruits" contest on hisstank.com.
With your help, I made it to the next round! Thanks also to Daremo who hosted the contest. Here are a few more pics of her and more info.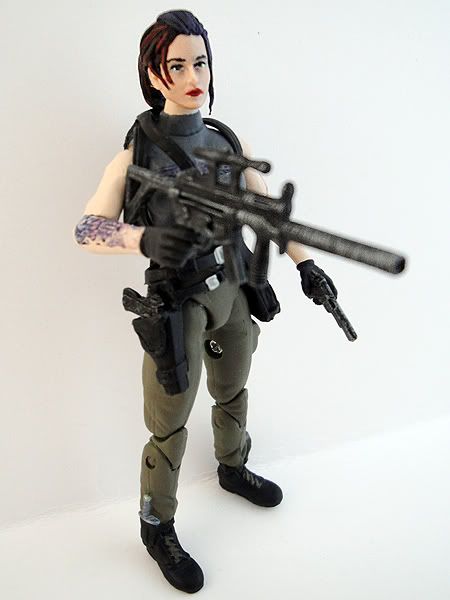 Here's her "file card"...
Specialty/Function
- Long Range Recon
File Name - Williams, Melissa
Primary Military Specialty
- Reconnaissance
Secondary Military Specialty
- Bar Tender
Born and raised on the south side of Chicago, TOP SHELF spent her formative years as the roughest "Derby Girl" on Chicago's Windy City Rollers women's roller derby team. At the same time she was working nights as a bartender at EXIT, the toughest biker bar in the city. She was a wild child who would have fit in well with the DREADNOKS until she learned that her older brother was KIA in Iraq. On that day she resolved to change her wild ways and enlisted in the Army.
Graduated Ranger School, Marine Sniper, Advanced Infantry Training, and Airborne. Qualified expert: M-14, M-16, M-1911A1, M-79, M-3A1, M-700 (Remington Sniper Rifle), Mac-10, as well as multiple forms of hand to hand combat.
Duke says: "Some of the Joes write her off as crass and rude. Yeah, she's tough, aggressive, and a bit of a troublemaker but in the field that all fades away, replaced by a steely discipline. Once on a mission, I saw a whole family of scorpions cross over her and she didn't even twitch. But take one look at her and you'll see the demons waiting just below the surface biding their time until she lets them out again."
Top Shelf says: "Most people think I got the nickname Top Shelf 'cause I used to be a bar tender. But really it's 'cause of my big rack."
Head - Juno Eclipse
Torso - Scarlett
Lower Arms - Lady Jaye
Legs - Lady Jaye
Feet - Pilot Scarlett
Gear - Various
Several years ago, a good buddy of mine took me to see the Windy City Rollers women's roller derby team play at some place called "The Stadium" in Cicero, IL just outside Chicago. It looked like a glorified High School gymnasium but when we got inside the place was packed and I discovered that this kind of roller derby wasn't anything like that fake crap they used to show on Saturday mornings. The women who participated were unlike any I had seen before. They were tough but feminine and real athletes ready and willing to fight in order to score points for their team. Since then, I have been to many bouts and the team has achieved great success, even moving to the much larger venue of the UIC Pavilion.
So when this contest came up, I knew I wanted to make a female Joe because there are so few of them. But I didn't want another nice girl like Scarlett or Lady Jaye...and that's when the idea of a Derby Girl came to mind. I also felt that reconnaissance was an empty spot that needed to be filled on the team. (C'mon, Sneak-Peek?)
W
hile her head is Juno from Star Wars, she sports a completely newly sculpted hairdo and face paint. Her Scarlett torso and upper arms also got an upgrade with a sculpted chest and biceps. After all, she was a rough and tumble "Derby Girl." The sleeve tattoo is a dragon, the left shoulder tattoo says "born lucky" and the little heart with the knife through it says "bitch."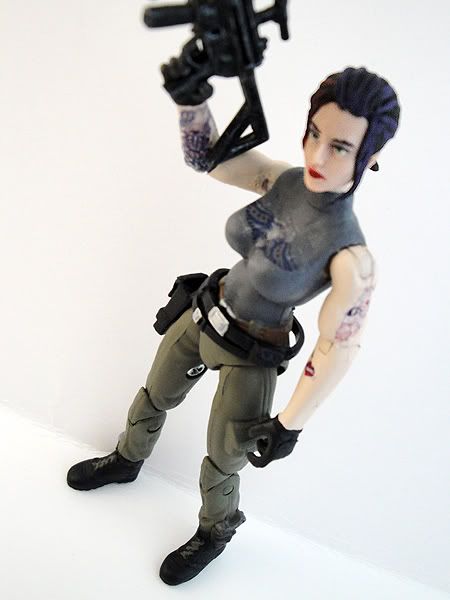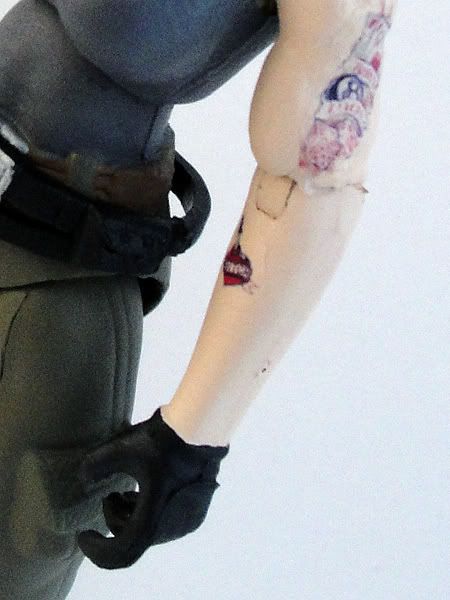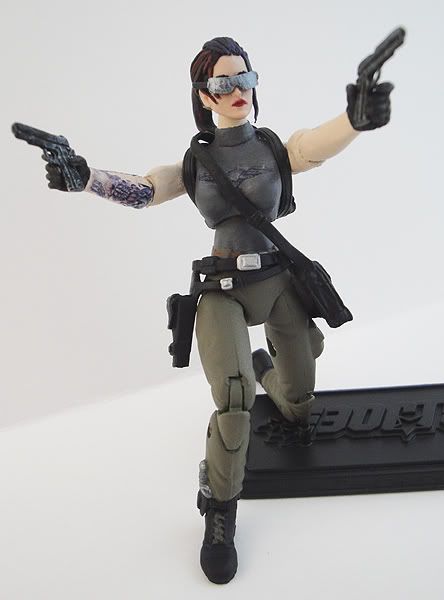 The design on the t-shirt is the official Windy City Rollers fan t-shirt contest winner designed by the extremely talented Bradshaw Baldonado. The white on the wings and skull didn't come out at boldly as I wanted so I'm going to redo the chest decal soon. She also has a floppy green khaki hat that she would wear during her long patrols but after I sculpted her hair, it wouldn't fit her head anymore.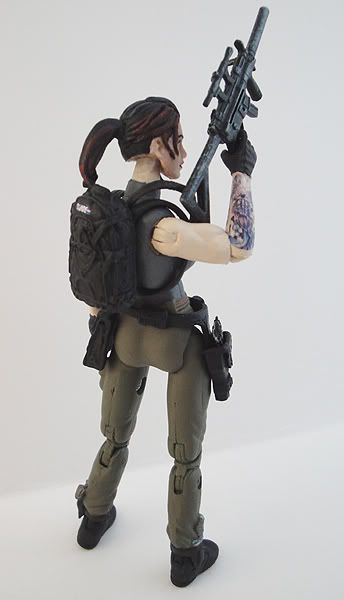 Be sure to
join Hisstank.com
so you can vote in the next phase of the contest! I have a sneaking suspicion I will be creating some sort of vehicle for her to use. Also, if you'd like to add her to your JOE team, I've made her available at my Etsy store. Click here to check her out!